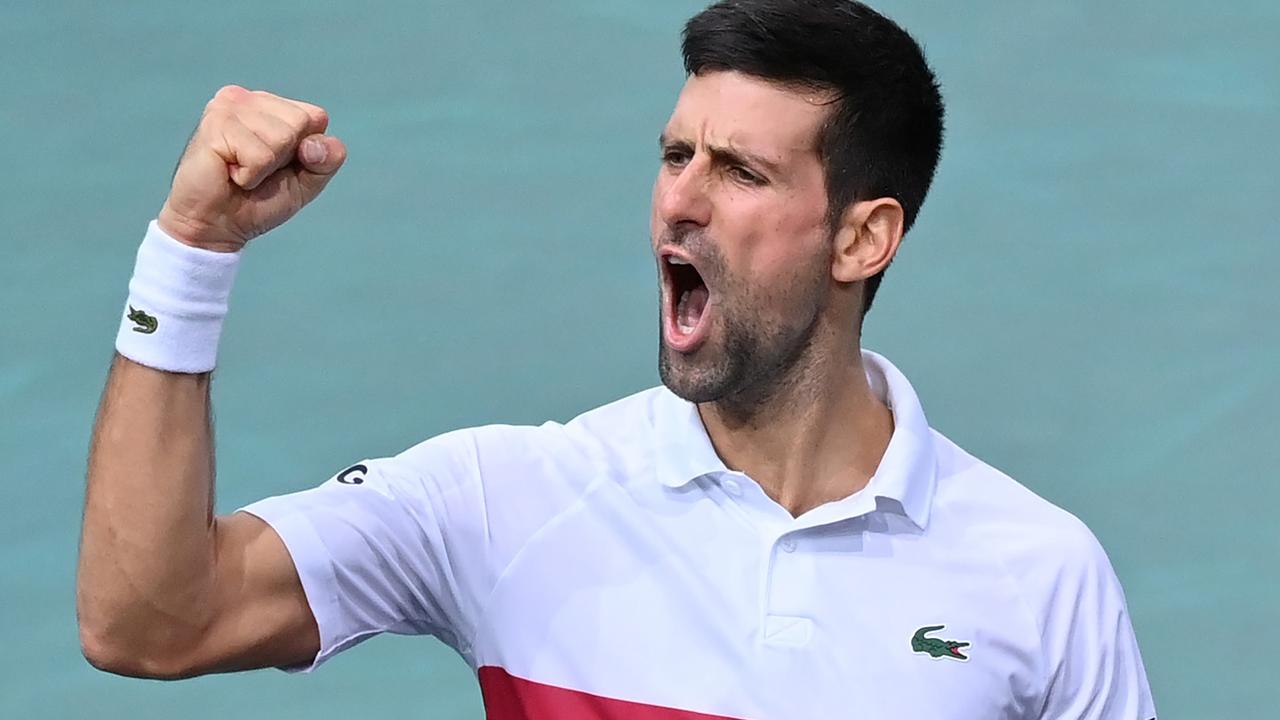 The decision to cancel Novak Djokovic's visa has been quashed by the Federal Circuit Court, and he will be freed from immigration detention.
The decision to cancel Novak Djokovic's visa has been quashed by the Federal Circuit Court, and he will be freed from immigration detention.
On Monday afternoon, Judge Anthony Kelly read out a minute agreed to by both Djokovic and the government, which ordered the government to pay Djokovic's costs and release him from detention within 30 minutes.
Djokovic's passport and personal effects must be returned to him.
The government acknowledged it had not given Djokovic enough time to make his case while he was being held after arriving in the country.
The decision to revoke his visa under Section 116 of the Migration Act was "unreasonable", because Djokovic had been told, at 5:20am on the morning of January 6, that he could have until 8:30am to respond to officials.
The call to cancel the visa happened before that deadline, at 7.42am, robbing Djokovic of time he could have used to "consult others" and make further submissions on his own behalf.
The world's top male tennis player — who is unvaccinated — thought he'd successfully received a medical exemption to enter the country but he was detained by the Australian Border Force after touching down in Melbourne last week.
In a submission to the court, Djokovic's lawyers said he contracted Covid-19 in December, which was the basis for his exemption application. But there has been confusion over whether being infected with the virus in the past six months was a valid reason to receive an exemption from being vaccinated.
Watch Tennis Live with beIN SPORTS on Kayo. Live Coverage of ATP + WTA Tour Tournaments including Every Finals Match. New to Kayo? Start Your Free Trial >
'Significant police presence' with Djokovic
The Daily Telegraph's chief sports writer Oliver Brown reports there is a "significant police presence" at the office of Djokovic's lawyers in Melbourne.
As previously mentioned, the Immigration Minister could decide to revoke Djokovic's visa again. As yet, we have no indication that has happened. We shall watch this space for more updates.
Djokovic's brother has claimed authorities want to "capture and lock up Novak again" and he's currently with his lawyers considering their options. No proof to support that yet.
Djokovic's father Srdan has told Serbian reporters his son has been arrested. Again, this is not yet supported by any proof.
Images from the ground level outside Djokovic's location show Victoria Police at the building, as would be expected for such a high profile individual.
Can Djokovic play in the Open now?
That is the million dollar question, isn't it? Or to be more precise, the $4.4 million question. That's how much Djokovic would earn for winning the Australian Open.
As things stand, at the exact moment I'm typing this (it's 7:13pm in Sydney, for reference), yes he is free to play.
But if the Immigration Minister decides to use his personal power to revoke Djokovic's visa again, as described in an earlier post, the world number one will once again find himself prevented from competing.
On top of that, he could be banned from entering the country for three years.
So at the moment we're all waiting to see what the minister does.
Transcript of Djokovic interview released
The court has released more documents pertaining to the case, including transcripts of Djokovic's interviews with officials after landing in Melbourne.
That transcript includes confirmation that Djokovic is not vaccinated against Covid, and has caught the virus twice.
"I am not vaccinated," he said.
"Thank you. Have you ever had Covid?" a Border Force official asked.
"Yes," Djokovic answered.
"So when did you?" they asked.
"I had Covid twice. I had Covid in June of 2020 and I had Covid recently in – I tested positive on December 16, 2021," he said.
Djokovic said he had the documents to confirm that infection if required. The interviewer said they would make a photocopy of them.
The player showed officials evidence of a positive PCR test on December 16 and a subsequent negative PCR test on December 22.
The rest of the transcript shows how confused Djokovic was upon learning that his visa might be cancelled. It shows that he repeatedly requested more time to speak to his agent, as well as Tennis Australia, before his visa was rescinded shortly before 8am.
Minister to consider cancelling visa again
This chaotic saga may not be over yet, despite the outcome in court today.
After Judge Anthony Kelly read out the minute agreed to by both sides, which will set Djokovic free from detention, government lawyer Christopher Tran indicated the federal Minister for Immigration and Migrant Services, Alex Hawke, would consider whether to use his "personal power of cancellation" to cancel Djokovic's visa again.
That scenario would come with an additional, significant wrinkle: it could entail banning the world number one from Australia for three years.
"If this man is to be summarily removed, he cannot return to this country for three years. Am I right about that?" Judge Kelly asked.
Mr Tran indicated that was indeed the case.
Such a decision could be appealed.
"The stakes have now risen, rather than receded," the Judge noted. He said he expected to be informed in advance if he would be required for further proceedings going forward.
Court quashes decision to cancel Djokovic's visa
At about 5:15pm, as court resumed, Judge Anthony Kelly read out a minute agreed to by both Novak Djokovic and the government, which quashed the decision to revoke the player's visa.
The government was ordered to pay the tennis player's costs and release him from detention within 30 minutes. Djokovic's passport and personal effects must be returned to him as well.
Judge Kelly said the decision to cancel Djokovic's visa under Section 116 of the Migration Act was "unreasonable" because he'd been told, at 5:20am on the morning of January 6, that he could have until 8:30am to respond to officials.
The decision to cancel Djokovic's visa happened before that deadline, at 7:42am. Judge Kelly said that robbed Djokovic of time he could have used to "consult others" and make further submissions about "why his visa should not be cancelled".
Djokovic leaves hotel, has deportation injunction extended
The hearing was adjourned for lunch shortly after 2pm and was expected to restart at 3.15pm AEDT. However, that was pushed back until 3.45pm.
The injunction preventing the Australian government from deporting Djokovic was due to expire at 4pm on Monday but when the hearing resumed, Judge Anthony Kelly agreed to extend the injunction on his deportation until 8pm.
Shortly after that decision was confirmed, the court was temporarily adjourned again.
Meanwhile, the Herald Sun reports Djokovic has left the hotel he was being detained in to join his legal team at another premises for the hearing.
On Monday Judge Kelly ordered Australian Border Force to allow the tennis star out of immigration detention at the Park Hotel in Carlton so he can view the hearing at another location.
Although allowed of his hotel for the hearing, Djokovic remains in detention and will return at the end of today's proceedings.
Judge: Novak can leave detention to view court hearing
Ongoing issues with the live stream of Novak Djokovic's court hearing today have meant the world's top male tennis player has been unable to watch the proceedings.
On Monday afternoon, Federal Circuit Court Judge Anthony Kelly made an order that Australian Border Force must allow Djokovic out of immigration detention at the Park Hotel in Carlton so he can view the hearing at another location.
"The respondent, by her servants or agents, including the Australian Border Force, take all steps and do all things as may be necessary to bring the applicant to premises as specified by the applicant's solicitors on Monday, 10 January 2022 (and each day thereafter, including upon the delivery of judgment), to permit him to remain there until the conclusion of each hearing and to secure his safe return to detention upon the conclusion of each hearing," the order reads.
The court's live feed paused before midday on Monday after being overwhelmed by users trying to tune in.
'What more could this man have done?': Judge asks glaring question
Monday's hearing was accidentally interrupted by a member of the public, who joined the live stream but was not on mute. "We're in," the person said, prompting a rebuke from Judge Anthony Kelly.
"Can I ask whoever is on screen to mute themselves. There is every importance that the only people who should be online with their microphones are those who are making submissions to the court," Judge Kelly said.
"Any other behaviour by any person who may be wishing to watch this live will produce a very real risk that the bandwidth available for this hearing will be overwhelmed and the hearing will be interrupted and that is utterly unacceptable."
Shortly after the interruption there was a big moment when Judge Kelly made poignant comments about Djokovic. He told the court the Serbian was right to assume his medical exemption was valid.
"The status attached to this medical exemption … the applicant in this case … can be assumed not to be a specialist medical practitioner. It would be, you'd think absurd, that a person could issue a medical exemption to themselves," Judge Kelly said.
"The evidence seems to underline a relatively significant fact, particularly in context of a cancellation of a visa.
"Here, a professor and a physician have produced and provided to (Djokovic) a medical exemption. Further to that, that medical exemption and the basis on which it was given, was given by a (panel) established by the Victorian Government.
"That document was in the hands of the delegate. The point I am somewhat agitated about is what more could this man have done?"
Djokovic's lawyer said his client understood that he "had ticked every box".
Team Novak takes exception to 'typo'
Novak Djokovic's lawyer Nick Wood SC is arguing the Notice of Intention to Consider Cancellation of his client's Visa is "defective" because it included a typo.
Lawyers for the Department of Home Affairs acknowledged in court filings on Sunday that a typo existed in the document but that it was insignificant.
They said the "unfortunate typo" is "unfortunate but immaterial".
But in court on Monday, Mr Wood said it mattered. "It is more than a typo. The notice was defective," he said.
The court also hears Djokovic begged authorities to let him use his phone after it had been confiscated at Melbourne's Tullamarine airport.
"If you will let me talk to people although you've taken my phone from me I will try and get you what you want," he said, according to Judge Anthony Kelly.
Djokovic's lawyer Nick Wood said his client did everything to provide authorities with documentation.
"Mr Djokovic was doing his level best to provide material to the officer at Tullamarine. Mr Djokovic did provide that evidence (in Dubai) before he boarded that aircraft," he said.
There was a strange moment when court was temporarily adjourned shortly before 11.30am AEDT. Djokovic's lawyer was stopped in his tracks mid-sentence for an unknown reason. The adjournment was only brief though, and normal proceedings continued.
Tech troubles plague Djokovic hearing
Tech dramas have plagued the start of the hearing.
Members of the public were supposed to be able to watch and listen to proceedings via a secure link but that was not working at 10am AEDT.
It was suggested on social media the amount of people wanting to watch via the link may have caused disruptions.
An old audio/visual link that was sent out previously was reportedly working, but those on the call could allegedly be heard because they were not muted.
Australian journalist Sarah Dankert tweeted: "While there's a public broadcast, there's an old teams link that is still working for the Djokovic case and the court official is gone after having trouble with mute all. We've had techno blasting, giggling, shouting and someone is just saying Nole repeatedly in a pained voice."
The court is aware of the tech issues and is looking into it. The hearing was delayed before getting underway around 10.30am AEDT.
However, even once it started, the live link still wasn't working — meaning nobody outside the court knew what was happening.
Hearing gets underway
Amid all the tech dramas proceedings finally got underway — though still not everyone could hear and see inside the courtroom.
Djokovic's lawyer started by outlining his team's arguments. They were complex and the lawyer used a lot of acronyms.
The judge wasn't a fan, telling him: "You're going to have to drag yourself back to the last century. I hate acronyms."
Australia's cruel new threat to Djokovic
Djokovic is arguing he has a valid reason for a medical exemption not to be vaccinated against Covid-19 because he has contracted the virus within the last six months.
His lawyers submitted a 35-page document Saturday arguing his visa was wrongly cancelled and should be reinstated, allowing him to compete.
The team argued that Djokovic's claim of a positive PCR test on December 16 means he meets the criteria for a vaccine exemption under the guidance of Australia's immunisation advisory body.
But Australia's Home Affairs Department has rebuffed his arguments point-by-point and urged the judge to dismiss the case, with costs.
Djokovic is unvaccinated and poses a risk to people and the health system in Australia, the government said in a 13-page document lodged with the court on Sunday.
The government added "there is no such thing as an assurance of entry by a non-citizen into Australia".
"As for material given to the applicant by the Department, it had not represented to the applicant that his so-called 'medical exemption' would be accepted," the submission said.
Significantly, the government's submission also said it retains the right to keep Djokovic detained even if he wins Monday's case.
"If the Court makes an additional orders for immediate release of the applicant, notwithstanding the above, the respondent submits that the Court should make it expressly clear that that order does not purport to (nor could it) prevent the respondent or any officer of the Commonwealth from exercising any power to detain that might be available to him or her despite the quashing of the delegate's cancellation decision," the submission said.
"An order for immediate release does not prevent re-detention if there is power to detain."
'Conflicting information': Tennis chief spills
Tennis Australia boss Craig Tiley said the organisation received lots of "conflicting advice" as it communicated with state and federal authorities about the rules for unvaccinated players coming into the country with an exemption if they had contracted Covid in the last six months.
"On the course of this journey, as the introduction of medical exemptions were proceeded with, there was plenty of contradictory information, plenty of conflicting information, and we were constantly seeking clarity from day one to ensure that we did the right thing and we were able to bring the players into the country again," Tiley told Nine on Sunday.
"All I can say is the there was much conflicting information, the whole time. Every single week we were talking to Home Affairs, all parts of government to ensure that we were doing the right thing and we were on the right process with these exemptions, but knowing also that everyone coming had to be vaccinated.
"The conflicting information and the contradicting information we received was because of the changing environment.
"I'm not going to blame anyone, all I will say is we know what we know, we know what we have in front of us and will do the best job we can."
Djoker's family keeps on fighting
Djokovic's family has already blasted Scott Morrison and Australian authorities for their treatment of the 20-time grand slam champion and they were at it again overnight.
At a rally in the Serbian capital of Belgrade, Djokovic's mother Dijana said her son was staying "in not humane conditions".
"They detained him and even don't give him breakfast, he has only lunch and dinner," she said, quoted by N1 regional television.
"He does not have a normal window, he stares at a wall."
Srdjan Djokovic, Novak's dad, took another crack at Morrison, adding: "We hope the court is independent and that it will bring the right decision and that Novak will get out as a winner and as a free man as the person he is.
"What is it that (he did) to deserve such treatment from their politicians, from their prime minister? Their fight between the federal and local governments and the tennis association — we are not interested in that at all."
Both sides clash over exemption argument
Djokovic's lawyers say Tennis Australia cleared him to play in the tournament because of his recent Covid infection, saying his vaccine application was approved by two independent medical panels.
But Australia's vaccination exemption form clearly states that a previous infection "is not a contraindication to immunisation", the government lawyers stressed.
Despite Djokovic's claim of a positive test on December 16, photos shared by the Belgrade Tennis Federation showed him at a young players' event in the city on December 17.
It reported that he had handed over cups and prizes to players. No one was wearing a mask.
Djokovic also attended a gathering on December 16, when the Serbian national postal service launched a stamp series in his honour.
"Thank you to my generous country for this rare gift! I'm humbled!!" he said on Instagram at the time.
The tennis ace's lawyers argued that he faced an "unfair procedure", claiming Australian border agents refused him time to rest and consult lawyers.
But the government rejected this, saying Djokovic had an opportunity to put his case to a border agent and had previously contacted his lawyers.
Since being held, his pleas to be moved to a facility where he can train for the Australian Open have fallen on deaf ears, his lawyers said.
Serbian Prime Minister Ana Brnabic said this weekend that Serbia was fully behind the player and she had held "constructive talks" with Australian Foreign Minister Marise Payne.
"We managed that he gets gluten-free food, exercise equipment, a laptop," she told Serbia's Pink television.
Tennis Australia chief Craig Tiley on Sunday defended his organisation from criticism that it failed to warn players that a previous infection did not qualify them for entry without a Covid-19 vaccination.
"We are not going to lay the blame on anyone because there is much contradictory information," Tiley told Nine.
A second tennis player who was headed to the Australian Open — Czech doubles specialist Renata Voracova — had her visa was cancelled after initially being allowed into the country.
She flew out of Australia on the weekend after being held in the same Melbourne centre as Djokovic.
With AFP
Originally published as Why Novak Djokovic's visa cancellation was overturned
Shop Women Clothes | Shop Celebrity Approved Women Activewear