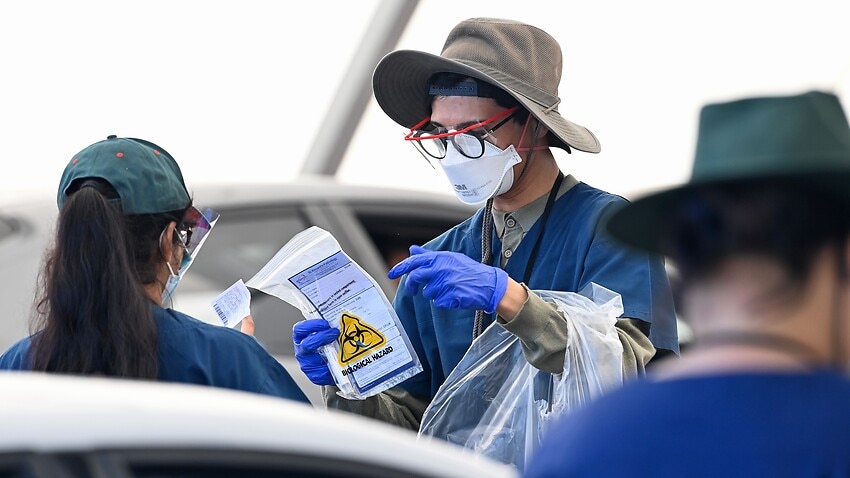 Health Minister Greg Hunt said the milestone for first vaccine doses for Australians aged 16 and older surpassed "almost all possible predictions that were made at the outset of the pandemic".
"That is often referred to as a full vaccination level but we want to go further, we want to continue to encourage Australians to come forward," Mr Hunt told reporters on Saturday.
Chief Medical Officer Paul Kelly said on Saturday there were "signs for hope" the outbreak in NSW, as well as those in Victoria and the ACT, have peaked.
"All predictions and now the actual forecasting based on actual numbers of cases, particularly in NSW but also in Victoria and ACT, leads me to believe that we are close to the peak of this wave in terms of cases," he told reporters, noting cases are likely to be going under-reported.
However, Professor Kelly noted the situation in Western Australia "is another story".
"When they do start to get cases it will be later on. But for most of the rest of Australia, we are still on that upward curve, we may be plateauing and then there is a downswing of cases after that," he said.
NSW posts 20 new deaths
NSW posted 20 new deaths and 48,768 new cases on Saturday – 21,748 via rapid antigen tests and 27,020 through PCR tests.
There are currently 2,576 patients in hospitals, up from 2,525 on Friday.
There has been a slight increase in the number of people admitted to ICU, too, with 193 patients currently requiring intensive care, up from 184 on Friday.
While more people are dying with coronavirus in NSW than at any other time during the pandemic, authorities maintain things are going better than expected and predict the outbreak will soon peak.
NSW COVID-19 update – Saturday 15 January 2022

In the 24-hour reporting period to 8pm last night:

– 95.2% of people aged 16+ have had one dose of a COVID-19 vaccine
– 93.8% of people aged 16+ have had two doses of a COVID-19 vaccine pic.twitter.com/uLxDFqCt0j
Worst-case-scenario modelling suggested 6,000 people could be in hospital at the peak of the outbreak, with 10 per cent of them in intensive care.
Even the best-case-scenario predictions paint a grimmer picture than the current reality, estimating 3,158 people would be in hospital.
Premier Dominic Perrottet on Friday said the state had "a difficult few weeks ahead" but things not currently being as bad as feared was "very reassuring and encouraging". Opposition Leader Chris Minns criticised the government for not preparing in December for the expected surge in cases.
Victoria reports 23 deaths
Victoria, meanwhile, reported 23 deaths and 25,526 new cases on Saturday – 12,857 via rapid antigen tests and 12,669 through PCR tests.
Currently, there are 227,105 active cases – 1,054 in hospitals and 115 in ICU.
The number of Victorians 18 and over who have received their booster vaccine shot has risen to 22 per cent.
The figures come as private pathology labs send out more notifications to Victorians whose PCR tests have been deemed invalid because they are more than seven days old.
"Impacted patients will be notified via text message in the near future. We regret the inconvenience caused to our patients by the delay in results," Australian Clinical Labs said in an update published on Friday.
"Our laboratory staff are doing all they can in getting through the current backlog, and like all pathology companies in Victoria, we have seen an unprecedented volume of samples enter our laboratories during the latest surge."
Person in 20s dies in Queensland
Queensland has announced further six COVID-related deaths, including one person in their 20s, and 19,709 cases.
The other deaths included one person in their 70s, two in their 80s and two in their 90s.
"All of these people had in fact received a vaccine," Chief Health Officer John Gerrard told reporters on Saturday.
"It is a reminder that even the vaccinated can get severe disease, particularly if you have underlying medical issues," Dr Gerrard said.
There are 649 people in hospital, including 46 in intensive care.
Fourteen people are ventilated.
SA reports 4,349 new cases and four deaths
South Australia has reported 4,349 new COVID-19 cases and four deaths, with Premier Steven Marshall hopeful the state will hit its peak of infections in the coming days.
The figures include 3,175 infections confirmed with PCR tests and 1,242 from state-issued RATs.
Mr Marshall described the figures as a "significant reduction" on the 5,679 infections recorded on Friday, which was the first day RATs were included in the daily totals and came after a delay in processing PCR tests following hot weather on Wednesday and Thursday.
There are 236 people in hospital – a drop of 10 from Friday's numbers – including 26 in ICU, seven of whom are on ventilators.
Under the SA government's modelling, released on Friday, daily cases are expected to reach between 6000 and 10,000 when the outbreak reaches its peak, predicted for between January 15 and 25.
"The numbers that we're seeing today fit exactly within the model that was delivered yesterday," Mr Marshall told reporters on Saturday.
"I'm very hopeful that we do hit that peak in the next couple of days in South Australia, and then we head towards reducing those numbers."
Another 1,320 cases in ACT
The ACT has recorded 1320 new COVID-19 cases, with rapid antigen test results now being taken into the official tally.
Health authorities say there were 691 positives from RATs and 629 from PCR lab tests in the 24 hours to 8pm on Friday.
The territory is now managing 3,316 active virus cases in total.
There are 30 virus patients in Canberra hospitals, up three on Friday. Three of them are being treated in intensive care units and receiving ventilation.
The ACT opened a method for rapid test reporting on Wednesday, with 1,178 positive cases added to the total number of infections from RATs taken between 8 and 12 January.
More than 15 per cent of Canberrans aged five to 11 have received their first dose of a COVID-19 vaccine and 98.6 per cent of people aged 12 and over have had two doses.
Of adults aged 18 and over, 28.1 per cent have also received a booster dose, with the figure unchanged since Friday.
Tasmania reports 1,139 infections
Tasmania reported 1,139 new coronavirus cases on Saturday, as overall active infection numbers in the state drop for a third straight day.
Twenty-two people with COVID-19 are in hospital, with 10 of those being treated specifically for virus symptoms. One person is in intensive care.
The other 12 people in hospital have COVID-19 but are being treated for unrelated medical conditions.
The new infections have come from 884 self-reported rapid antigen tests and 255 PCR tests.
Tasmania's health department says 1,470 people have been released from isolation in the past 24 hours. It means there are 7108 reported active cases, down from 7,439 on Friday and 7,969 on Thursday.
It comes as elective surgery and other services at a hospital in northwest Tasmania are being reduced due to COVID-caused staff shortages.
More than 90 staff at the North West Regional Hospital in Burnie are unable to work having either caught the virus or been forced to isolate as a close contact.
Second COVID-19-related death in the NT
A First Nations woman from Darwin's Bagot community has died of COVID-19 at Royal Darwin Hospital.
This is the second COVID-19-related death in the Northern Territory, which – on Saturday – posted 412 new COVID-19 cases.
About one-third of the new cases tested positive on a RAT.
Thirty-two patients in the jurisdiction are currently in the hospital, with none in ICU.
"I'd like to send my deepest condolences to her family, to the Bagot community because we know that they will be hurting right now," Deputy Chief Minister Nicole Manison said on Saturday.
"[I] also want to send out my thanks and also sympathy to the staff in the ICU, because we know that they worked incredibly hard here," she said.
Additional reporting by AAP.
Shop Women Clothes | Shop Celebrity Approved Women Activewear